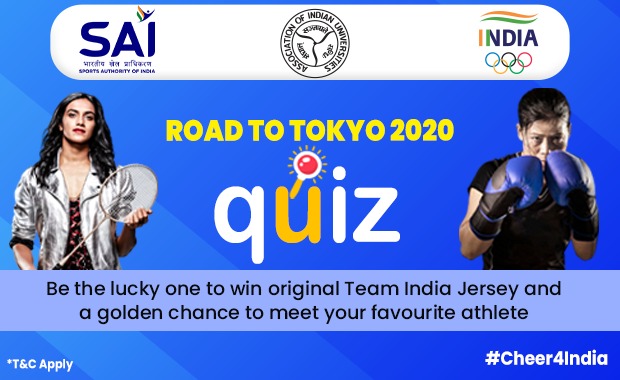 AIU - Road to Tokyo 2020
1. Tokyo Olympics 2020 has been scheduled from 23rd July to 5th September 2021 and it is of importance to cheer our Indian athletes to show our support as one voice of nation in these unprecedented times.
2. In this regard, Sports Authority of India and Indian Olympics Association (IOA) have jointly decided to organize a nationwide campaign to create awareness about the Olympics with focus on the participation of Indian Athletes in Tokyo Olympics 2020. The campaign includes Quiz on Olympics "Road to Tokyo 2020".
The Quiz will have the following process:
Online Quiz:To be a multiple-choice online round conducted in English & Hindi
The Quiz will have 10 questions (120 seconds) from multiple themes - History of Olympics, Sports & Disciplines, Past Achievements of Athletes, World Records, Current and Past Indian Athletes.
Only one attempt per person is allowed.
In case of tie in scores, the fastest completed score will be considered.
Everyday lucky winners will be awarded Indian Team/Fan Jerseys.
Happy Quizzing !!